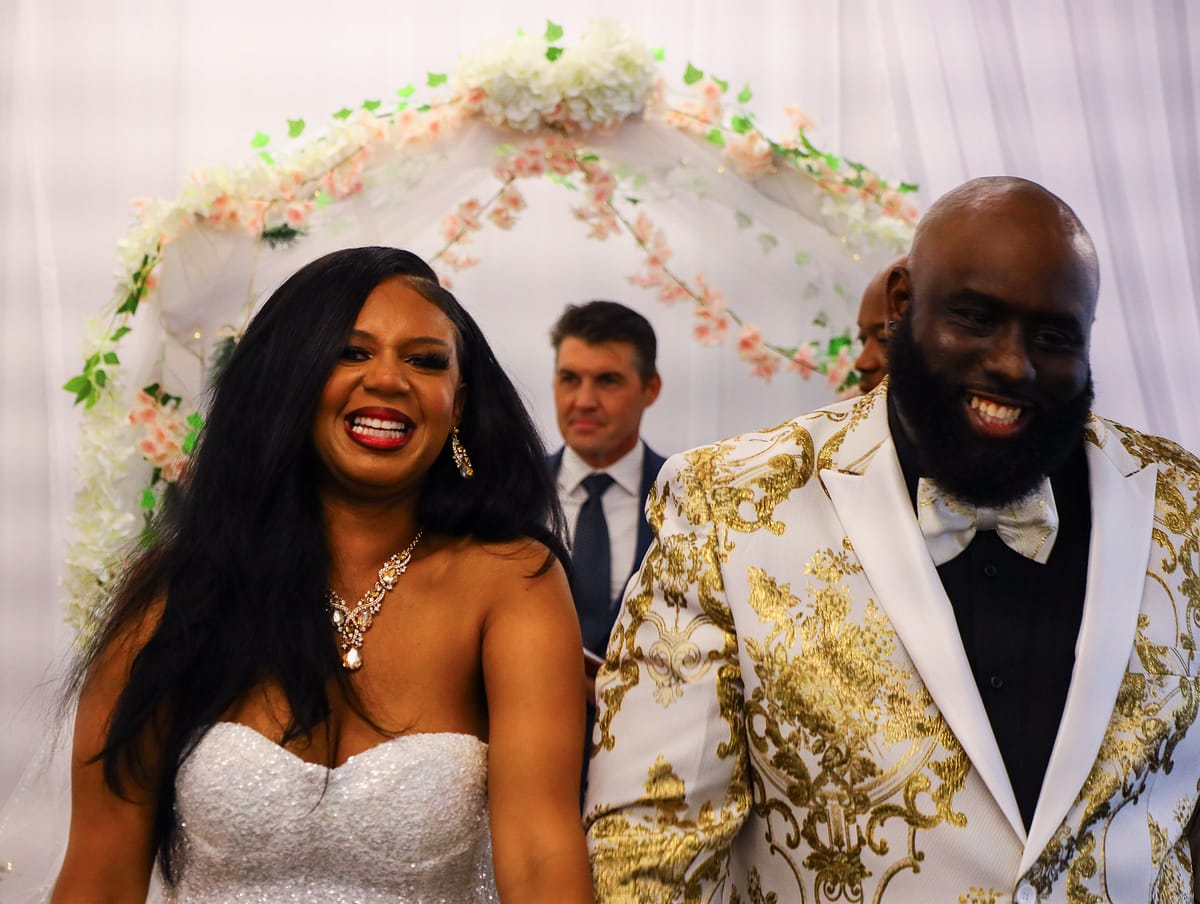 We've all seen it or dreamed of it – that big moment.

The anticipation rises as you stand behind the curtain, your brand new life on the other side. Your heart is full, your stomach fluttering with butterflies. Your lifelong love is waiting for you, only footsteps away. And then, the music begins to play. This is it!
Every couple deserves a magical wedding.
By cutting the complicated, overpriced fluff and focusing on what matters most – the actual ceremony – we've crafted an offer that's never been seen before in the wedding industry.
You'll have the wedding you've always dreamed of, that one-in-a-lifetime look reflected in your soulmate's eyes and beautiful photos to remember forever- with none of the hassle, fuss, headaches and high prices of a conventional wedding.
End Your Planning Stress Today and Choose the Grand Entrance Wedding Experience.
It's a wedding package that turns your dream wedding into reality, without a massive price tag.
Here's what you'll get.
---
Prepped and Pampered
Celebrity treatment for Bride and Groom in your own private rooms. Escape to your personal sanctuary as you get ready to look amazing for your big moment!
---
At Your Service
You'll have full access to the Grand Entrance Chapel for 2 hours along with Chaplain Scott and a Chaplain Assistant to take care of all the details. All you have to worry about it looking your best!
---
The "Fairytale" Moment
Experience the butterflies, the anticipation and the glorious moment as you emerge from the Glory Room and walk down the aisle to meet your beloved. There's nothing like the look in your partners eyes when you say the magic words "I Do!"
---
The Joy of a Lifetime
Not only will the magic of the vows, the first kiss and the cheers of celebration live in your hearts forever – you will have HUNDREDS of photos to share those memories for generations!
All This for One Low Price.
We've put together an amazing package that saves you over 50% if you book by September 1st.
Here's what you'll get! (a $6,200 value)
---
prices if purchased separately:
2 Hours Chapel Time
---
$1,000
Exclusive Access and Use of the Premium Grand Entrance Chapel
Ret. Navy Chaplain Scott will Perform an Unforgettable Ceremony
2 Hours of Chaplain Assistant to Handle the Details
Wedding Coordination
---
$1,500
Includes DJ/Music Services and Equipment
Beautiful Photography
---
$1,500
Photos of the Ceremony, Bride and Groom Photos in All the Best Wedding Poses & Photos with Family and Friends
Bridal and Groom Rooms
---
$500
30 Minutes Each – Separate Private Suites for Bride and Groom to Relax and Get Ready before the Ceremony
"ALL RISE!", as the Bride Makes Her Magnificent Entrance and Is Walked Down the Aisle
Grand Entrance Wedding Ceremony
---
$500
The Big Moment! Includes- Heartfelt Vows, Beautiful Ring Exchange Ceremony, and God's Blessing
Your Grand Entrance Awaits – And You Can Still Afford the Honeymoon!
This $6,200 value is available for less than HALF PRICE for only $2,999 if you book by Friday, September 1st*
*$200 deposit and a Payment Plan of $200 every 2 weeks for a Total Deposit of $1000, with the remaining balance of $1999 due at time of service.
We are excited to make this special offer just for you! Lock in this amazing discount before it expires!